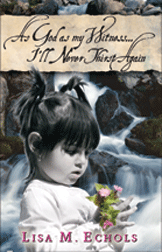 **Now Available in Paperback and Audio CD!
"As God As My Witness...I'll Never Thirst Again"
If you, or someone you know has suffered the pain of abandonment, rejection, fear and loneliness, then this is the book to read!
It's 172 pages of a true love story you don't want to miss! A 5 year old girl is in love with her God, and clearly hears His voice. But a tragic incident tears her from His arms, and it takes many years of pain and suffering before they are reunited. There were just a few sins that escaped touching her life, but His love, which covers a multitude of them, won her back to His heart in a dramatic way! Take the journey with her, with Him, and discover the wonderful love His redemption offered to her broken soul. You will go away feeling showered yourself, with His grace!
Reader's comments:
"I was very surprised by your openness and honesty in sharing the whole of your life. It is refreshing to see one in a leadership role showing their vulnerabilities, their defeats and their victories; it makes others have hope. Thank you!"
"Your book was VERY well written, and such an inspiration. It was an easy read, but deep in content. Your courage is admirable."
"I read the book in a night! I couldn't put it down until I reached "the end". What a great book!"
"I was touched by so many parts of the book it is hard to list them all. I can only say that I am grateful to you for sharing EVERYTHING with your readers, and I pray that the book gets into the hands of christians and non-christians alike. You are brave and I thank you!"
"I admire the courage it took for you to write this book. You put it all out there, which is something the body of Christ needs - purely open and outright honest! The scripture says, 'Confess your faults one to another that you may be healed', and this is what you have done through this book. It is awesome to see where you were before, and what good and awesome things the Lord has done in your life".
"The story was so intriguing, I didn't want to put it down! I was left with an overwhelming feeling of hope."
"It made me cry, and it made me applaud. I did not want the story to end. This is truly a one of a kind writing!"
"I was so inspired by the book - it made me believe again! I have hope that I will not always carry the pain of my past. This story should be made into a movie!"
Paperback (Currently Out of Stock)
$10 + $3.00 Shipping & Handling
Audio 3-CD Set
$13 + $5.50 Shipping & Handling
Conference 3/12/2016 "CONVERGENCE"
$5 + $2.50 Shipping & Handling
If purchasing with a check, please email us at info@joysprings.org for the mailing address.
Please allow 3-5 business days for shipping. Thank you!